Highway & Sanitation Department
Highway and Sanitation offers many services to Village residents including sanitation, recycling, street lighting, and maintenance of our streets and highways. If you wish to report a pothole or a street light out, please call 631-669-4878. Please inform us of the exact address, if possible, or a location description. Monday-Friday 7:00 AM - 4:00 PM, (631) 669-4878.
Announcements - Highway & Sanitation
In response to an ongoing issue we have been experiencing throughout the Village, we would like to remind our residents that no rubbish, recycling or any other material to be picked up by the sanitation department should be placed at the curb prior to 6:00 pm the night before your scheduled collection day. We will be issuing warnings in such cases, and if the problem is not resolved within 24 hours, summonses may be issued. This is an effort to preserve the wonderful quality of life we have in Babylon Village. If you have any questions about your rubbish/recycling day and when they are scheduled, please call the Highway/Sanitation office at the above number. Thank you!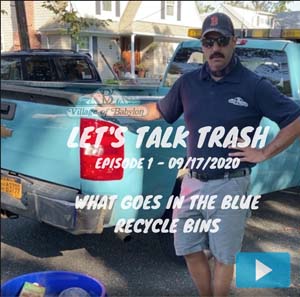 Video Blog Highway & Sanitation
Let's Talk Trash - Episode 1
What Goes In The Blue Recycling Bins
Here is a tip on recycling in the Village of Babylon from Head of Sanitation Jay Brunjes. Aluminum cans, plastics and glass - rinsed out please - are the only items that should be placed in your blue recycling bin. Please put plastic wrappers in with Rubbish as they gum up the recycling machines. Village residents may pick up a blue recycling bin from the Sanitation Department by calling 631-669-4878.