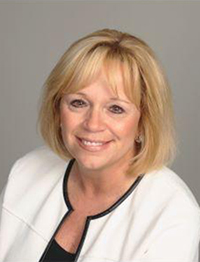 Mary E. Adams, Mayor
Mayor Mary Adams is all about community. She learned that community spirit from her predecessor, mentor and friend Mayor Ralph Scordino. Just as Ralph did, Mary puts the Village first, because being mayor is not about a title it is about community. She transitioned into the office after Ralph's tragic and sudden passing led by one guiding spirit - love of the Village. With her trustee team behind her Mary will continue to make a better Babylon.
For a better Babylon - experience matters. Mary has been a small business owner of Century 21 Adams Real Estate in the Village for three decades. She joined the Chamber of Commerce to provide additional avenues for promoting business and revenue into the business district. She took a leadership roll in the Chamber and used her communications degree to help other business owners in the Village. Mary takes her civic duty seriously and served as the Treasurer of the Babylon Beautification Society, Chairperson of the Babylon Tuna Club. She is a Past President of the Long Island Board of Realtors, Multiple Listing Service Past Vice President of Suffolk County, sat as the Grievance Chairperson for the New York State Association of Realtors and as a chairperson for Professional Standards Committee as well as sitting on the Legislative Committee for the Long Island Board of Realtors and New York State Association of Realtors.
In October 2012, Hurricane Sandy devastated the waterfront community in the Village of Babylon. Mary has been a resident of Fred Shores for 18 years and she couldn't sit by as her friends and neighbors struggled, she tirelessly assisted the community in recovery efforts. Mary served on the New York Rising Community Reconstruction Program for Babylon Village. For all her efforts during Hurricane Sandy, Mary received "The Woman of Distinction" Award from the State of New York in 2013.
Mary started her government service as a member of the Architectural Review Board. Prior to becoming Mayor, Mary became a member of the Scordino team as a village trustee. Mary has been responsible for all the Parks and Recreation programs, the Summer Gazebo concerts, as well as the tennis courts, gardens and the village greenhouse. She has also been involved in the Budget Committee, Newcomers Committee, and the Babylon Village Volunteer Corps.
Mary recognized early that COVID-19 would knock us off our feet just as Sandy did, but she refused that it would knock us out. Together with then Mayor Scordino and Deputy Highway Supervisor Scott Glenn created a task force in March of 2020 to respond to the needs of our community and business district quickly. The task force worked to issue outdoor dining permits quickly, held continuous zoom meetings to keep residents and business owners updated. Working together to safely reopen to protect residents, shoppers, employees and small business owners. Mary worked one on one with business owners and landlords regarding available programs for loans and funding.
As Mayor Mary has continued to expand programs for the children in Babylon Village as well as for all our families. With over 240 children participating in various programs each year, including ensuring those programs continued safely during COVID19. Everything from Crafty Wednesdays to Saturday in the Park to Art in the Park were all introduced by Mary.
Mary also worked with BACCA to host Plein Air Painting at Argyle Park in 2020 and Babylon Village held its first Pickleball Tournaments because Mary ensured that the tennis courts would be lined for pickleball. Before COVID-19 Mary introduced "Winterfest 2020" at Argyle Lake where thousands of people enjoyed an ice skating rink, s'mores and hot cocoa.
Mary also led the way with the Babylon Beautification Society as the Village of Babylon received the honor and designation of becoming a "Tree City, U.S.A." adding value to our neighborhoods and recognition to our community. She loves working with various Girl Scout and Boy Scout troops and being a part of their projects for making a difference in our community.
Together with the efforts of Mayor Scordino, Trustee Adams was able to secure two grants for the restoration of Argyle Falls. Mayor Adams oversees the project on a daily basis and looks forward to the completion of the Ralph A. Scordino Memorial Falls at Argyle Lake.
Expanding programs and activities at the Village of Babylon pool and golf course are on the agenda for Mayor Adams, with both facilities being the "jewels" of our community. Appreciating and preserving Babylon Village history and traditions, progressing the Village of Babylon forward is the objective of Mayor Adams and her administration with new ideas, enhancing infrastructure and continuing to add to our home values and all the amenities that Babylon Village has to offer.
And in her spare time? Mayor Adams enjoys spending time with her 3 rescue dogs : Zoe Grace, Chloe Marie and Shelby Louise. Her favorite food? Italian. Favorite Broadway show? Phantom of the Opera. Mary's Favorite books? Any biographies and history. Mayor Adams enjoys boating, fishing with the biggest support of her long time companion Doug Laukaitis.
Mayor Adams with her experience, her hard work ,dedication and love for Babylon Village looks forward to continuing the legacy of Mayor Scordino, preserving our Village history, traditions and values while working and progressing Babylon Village forward. You will certainly see Mayor Adams at every event and function in Babylon Village!