The Victorian Room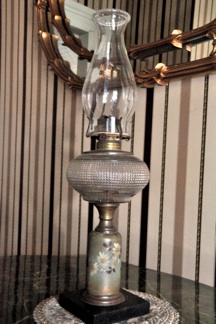 In 1871, the Conklin House was moved to it's current site which was on the property of The Washington Hotel. This was Babylon's Hotel Era. There were more than a dozen hotels in the Village area and more on Fire Island. The Conklin House became the home of the colorful Austrian hotel owner, John Lux.
After the move up Deer Park Avenue to this location, the house was modernized to conform to the Victorian style of the time. The wraparound porch was added to the front and north side and the front windows were lengthened almost to the floor level.
The room is furnished and decorated to reflect the Victorian tastes of its quintessential Victorian owner. For John Lux was a lead player in the social scene of this time and place. Newspaper archives refer to fancy dress balls, concerts and entertainments at his hotel and home.