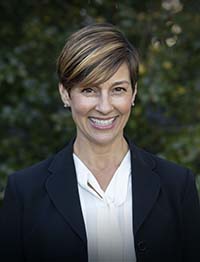 Robyn Silvestri, Trustee
Robyn Silvestri was appointed to the Village Board in 2018. In addition to her general Village duties, Robyn chairs the Steering Committee for teh historic Nathaniel Conklin House whose mission it is to bring forth culture, education and history for the betterment of our Village. She also oversees all Village street lighting and is responsible for reviewing its insurance policies.
Having lived and worked in Europe for over a decade, Robyn speaks multiple languages and holds a degree in International Relations from Webster University (Vienna). She brings to the Village 20+ years of sales, marketing and communication experience at both international companies and startups. Robyn is married with four school aged children and has been a Babylon resident and active community member since 2001. Her service and commitment to the Village of Babylon includes:
Babylon Village Volunteer Corps, Chairperson, helping connect residents in need with volunteers
President of the Babylo K-6 PTA (2015-2017) where she organized multiple successful fundraisers; increased both adult and student volunteerism through the introduction of website and online volunteer registration & creation of a Student Volunteer program; and collaborated extensively with numerous Village and community organizations to leverage resources for cultural and educational programs.
Babylon Beautification Society Country Fair volunteer and Lamppost Captain
Babylon Friends of the PUblic library book fair volunteer
Former Whaler's Cove Board member where she created and distributed a community newsletter
Active supporter of Wounded Warriors, the Babylon Village Women's Club and the LI Women in Tech
Robyn currently serves as the Executive Director of local environmental non-profit Save The Great South Bay which promotes programs that protect and preserve the Bay. She was thrilled and honored to be appointed to the Village Board and continues to work hard to serve the people of Babylon Village.